Biography
I am a record producer and sound engineer.
You can see listings of some of my accomplishments
on the Releases page of this site.
You will also find mp3s of a few of the more recent
bands for download. Below is a brief history.


A Long, Long Time Ago In A Galaxy Far Away...
My vocation in sound recording started with an interest in hi-fi, rock & pop music & guitaring. I finished school with a science background, and went on to study Philosophy at Nottingham University (UK).

Got involved with the PA company and the local radio at university where I learned the rudiments of sound reproduction, broadcast & recording equipment.
Building & Running My First Studio
Helped Rog Patterson (then of touring Prog Folk band 'Twice Bitten', now tour managing company director for the likes of Rage Against The Machine, Skunk Anansie and Terrorvision) with recording, setting up a mobile recording studio (8 track Fostex based). Recorded Pendragon's 9:15 live album at the Marquee in London.

Also formed a band called I2BF, which played rock pastiches around the country on the alternative cabaret circuit of the time.



Put the recording equipment into premises offering recording services and rehearsal space. This was established as 'The Canning Factory' in Canning Circus, Nottingham. Designed and installed sound proofing and acoustic treatment to live areas and control room. Successes there including recording the demo for Fudge Tunnel that got them signed. Met Andy Sneap of Sabbat when Rog was tour managing them. Also engineered for John 'Rabbit' Bundrick (keyboards for The Who, Roger Waters, Free, Bob Marley and many many more) at his own studio, and did some live sound work with ESS - a midlands based PA company.

Formed a band with Kevin Pacey called 'Oddball'. This didn't last long due to my recording commitments.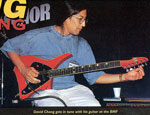 Designed an electric guitar for a competition run by Hohner and Making Music magazine. Won the competition, and they built the guitar for me!
Going Freelance
Went freelance, became House Engineer at Square Centre Studios, Nottingham (24 track 2 inch with fully automated large format Amek Mozart desk & loads of outboard). This gave me the opportunity to work with great producers like Pete Jones, Steve Lovell, Colin Richardson, Nick Robins, Roger Lyons, Robin Taylor-Firth, Mark Tolle, as well as in-house producer/engineers John Crossley, Karl Junger and Ric Peat. Also met & recorded Owen Packard and Joe Roberts, then of Warpspasm, later of Blastcage and now of Earthtone9.

Produced Orange Goblin and Hangnail (for Rise Above records), and engineered Acrimony (produced Andy Sneap), Liberty 37 (produced Colin Richardson), Olive (produced Roger Lyons) and Phil Chevron (produced Nick Robins) at Square Centre Studios.

I also worked at Revolver Studios in Wolverhampton.
Backstage Studios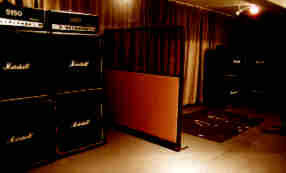 Met up with Andy Sneap again, who had built his own studio called Backstage Studios, then a 24 track ADAT based studio. Started producing at Backstage. This environment suited the punk and metal bands that I was working with, since it was less intimidating and more efficient than larger studios. The studio has since expanded due to its success with Mackie desks, loads more outboard, 20 bit ADAT machines and Pro Tools. Andy meanwhile was beginning to do a lot of work in the US, for Machine Head, Stuck Mojo, Skinlab, Earth Crisis etc.

Stampin' Ground, Charger, Freebase, Knuckledust, Slave Arc, Canvas, Withdrawn, Dagobah, 3rd Stone & Earthtone9 were produced & recorded at Backstage. Met Jamie Locke at Normandy Studios in Rhode Island, USA during the Stampin' Ground 'An Expression of Repressed Violence' project.


Philia Studios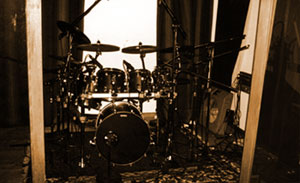 Copro Records signed Earthtone9, and decided that their demos from Backstage should be released, combined with 3 new tracks. I was commissioned to produce these at their affiliated studio, Philia Studios.

This has led to a productive relationship with the studio and the label, and the recording of Earthtone9's 'Off Kilter', CapDown's 'Pound For The Sound', Schindler, Miocene, Desecration, Snub, GF93 (from Italy). The studio has grown to a Pro Tools Mix+ system which includes the country's first Focusrite Control24 Desk.
Now
So that brings the history pretty much up to date. I now work mainly on Pro-Tools, because you can achieve a production level for a fraction of the time and cost it takes on analogue. Most of the work I do is at Backstage or Philia studios, though I am freelance and do work at other studios too. Latest projects to date are 4ft Fingers (Golf), Matter 'Blackleg' (Undergroove), CapDown 'Pound For The Sound' (Household Name), Karmic Jera 'Zombies Blood & Go-Go Girls' (Dream Catcher), Stampin Ground 'Carved From Empty Words' (Century Media), Medulla Nocte 'Dying From The Inside' (Copro Records), Linea 77 'Ketchup Suicide' for Earache, Miocene for Infernal and Sloth for JVC Japan.

On this site you will find links to many of the bands, labels and studios I work with and for. If you wish to contact me to discuss a project for your band or label, please don't hesitate to contact me. I have also just added a page on my views about the art of production, so if you want some philosophy, look there. At the moment I am pretty busy, so it is best to arrange things well in advance, but if deadlines are short, it is worth getting in touch in case of cancellations.