Biography
Dave Chang is a producer/engineer with over 20 years experience working predominantly with rock, metal, punk and ska bands. Dave is easy to work with professionally managing recording projects, providing artistic arrangement, performance and technical advice resulting in a low stress creative environment. He has worked at studios worldwide from project facilities through to Abbey Road.

You can see listings of some of his accomplishments on the Releases page of this site.

Check out mp3s of a few of the more recent projects with the music player on the home page. Below is a brief biography.


Background
Dave Chang's productions are widely praised by fans and in the music press, and is proud to have produced one of Kerrang's top 100 'Best British Rock Albums of All Time'. He has built up an enviable reputation by giving every project 100% focus and commitment, and his determination to strive for excellence.

His vocation in sound recording started with an interest in hi-fi, rock & pop music & guitaring. He finished school with a science background, and went on to study Philosophy at Nottingham University (UK).

Dave's interests lead him to get involved with the PA company and the local radio at university where he learnt the rudiments of sound reinforcement, reproduction, broadcast & recording equipment.
First Studio
Dave worked with Rog Patterson (then of touring Prog Folk band 'Twice Bitten', later tour managing company director for the likes of Rage Against The Machine, Skunk Anansie and Terrorvision) with recording, setting up a mobile recording studio (8 track Fostex based). He recorded Pendragon's '9:15' live album at the Marquee in London.

Dave formed a band called I2BF, which played rock pastiches around the country on the alternative cabaret circuit of the time. Dave played guitar, wrote songs and added additional vocals.



Dave established 'The Canning Factory' recording and rehearsal studios in Canning Circus, Nottingham. He designed and installed sound proofing and acoustic treatment to live areas and control room. Successes there including recording the demo for Alex Newport's 'Fudge Tunnel' that got them signed to Earache Records. Met Andy Sneap of Sabbat when Rog was tour managing them. Also engineered for John 'Rabbit' Bundrick (keyboards for The Who, Roger Waters, Free, Bob Marley and many many more) at his own studio, and did some live sound work with ESS - a midlands based PA company.

Formed an alternative rock band with Kevin Pacey called 'Oddball'. Demand for Dave's recording services were increasing rapidly at this time and he had to leave the band.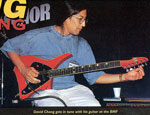 Dave also put his knowledge of guitar to good use by designing an electric guitar for a competition run by Hohner and Making Music magazine. The quality and understanding in the design secured a win, and Hohner custom built the guitar for him.
House Engineer
Dave moved on to House Engineer at Square Centre Studios, Nottingham (24 track 2 inch with fully automated large format Amek Mozart desk & loads of vintage and valve outboard). Here he worked with a wide range of artists and musical styles including soul, funk, pop, rock, Salvation Army Brass Band and The Nottingham School of Samba. He also had the opportunity to work with great producers like Pete Jones, Steve Lovell, Colin Richardson, Nick Robins, Roger Lyons, Robin Taylor-Firth, Mark Tolle, as well as in-house producer/engineers John Crossley, Karl Junger and Ric Peat. Also met & recorded Owen Packard and Joe Roberts, then of Warpspasm, later of Blastcage and Earthtone9.

Produced Orange Goblin and Hangnail (for Rise Above records), and engineered Acrimony (produced Andy Sneap), Liberty 37 (produced Colin Richardson), Olive (produced Roger Lyons) and Phil Chevron (produced Nick Robins) at Square Centre Studios.

Dave also worked at Revolver Studios in Wolverhampton during this period.
Freelance Production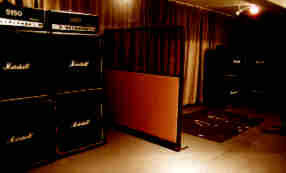 There was increasing demand for Dave's production services in his own right, in addition to working as a house engineer. Dave met up with Andy Sneap again, who had built his own studio called Backstage Studios, then a 24 track ADAT/Mackie based studio. Started producing at Backstage. This environment suited many of the punk and metal bands since it was less intimidating and more efficient than larger studios. The studio has since expanded to a larger Pro Tools based facility.

Stampin' Ground, Linea77, Charger, Freebase, Knuckledust, Slave Arc, Canvas, Withdrawn, Dagobah, 3rd Stone & Earthtone9 were produced & recorded at Backstage. Dave also had the chance to meet Jamie Locke at Normandy Studios in Rhode Island, USA during the Stampin' Ground 'An Expression of Repressed Violence' project.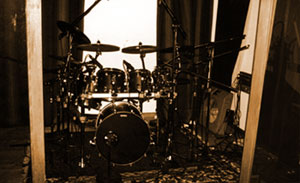 Copro Records signed Earthtone9, and decided that their demos from Backstage should be released, combined with 3 new tracks. Dave was commissioned to produce these at their affiliated studio, Philia Studios.

This led to a productive relationship with the studio and the label, and the recording of Earthtone9's 'Off Kilter', CapDown's 'Pound For The Sound', Johnny Truant, Panic Cell, Miocene, Desecration, Snub, GF93 (from Italy). The studio has grown to a Pro Tools HD3 system which includes the country's first Focusrite Control24 Desk.
International studios including Abbey Road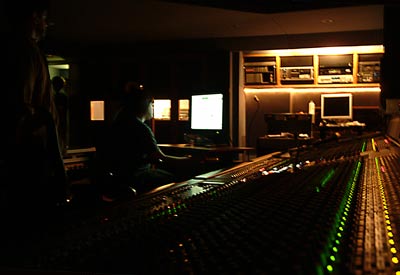 Dave is freelance and works at studios across the world. Many of the studios Dave has worked at are detailed on the 'Studios' page of this website, and include Andy Sneap's Backstage Studios in Derbyshire. Red House in Italy and Abbey Road in London, UK. He is happy working in any studio as long as it provides the facilities and equipment needed for the project. Dave is currently working a lot with Whitehouse studios in Reading UK which offers a great recording facility at a competitive price.

Dave was invited to work at the historic and world famous Abbey Road studios with ska-punk-funk-rockers Six.Point.Five, sponsored by the Community Channel and Channel 4. Tracked drums in the legendary Studio 2, finished tracking and mixed in the state of the art studio 3. More details of the session can be found here
Latest developments and the Digital Age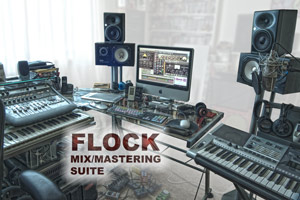 Dave is based in a village near Reading, UK. Dave is continuing to develop his musical and technical skills to give the best service possible. Musically Dave is always developing his guitar skills and for the past few years has been working on singing and keyboard skills too. Most of Dave's production work is now done in the digital domain with Pro Tools.because you can achieve a production level for a fraction of the time and cost it takes on analogue. The digital revolution in audio recording has also allowed for more flexible approaches to recording to be used. Dave can now mix and master at his own Flock Studio.

As digital recording becomes increasingly cheaper and more prevalent, musicians and artists are realising more and more how important the people behind the equipment are. Dave's experience in recording and working with bands means he has the knowledge to help plan the best and way to record a project, and looking at new ways to organise sessions. A recent project was recorded in Italy (at Red House Studios in Sennegalia), edited from home and mixed in the UK. Some projects are partly recorded by the bands themselves. Dave also provides mixing and mastering services.

For Dave's philosophy on recording, check out The Art Of Production, and here for reviews

If you wish to contact Dave to discuss a project for your band or label, please send a message here: contact.